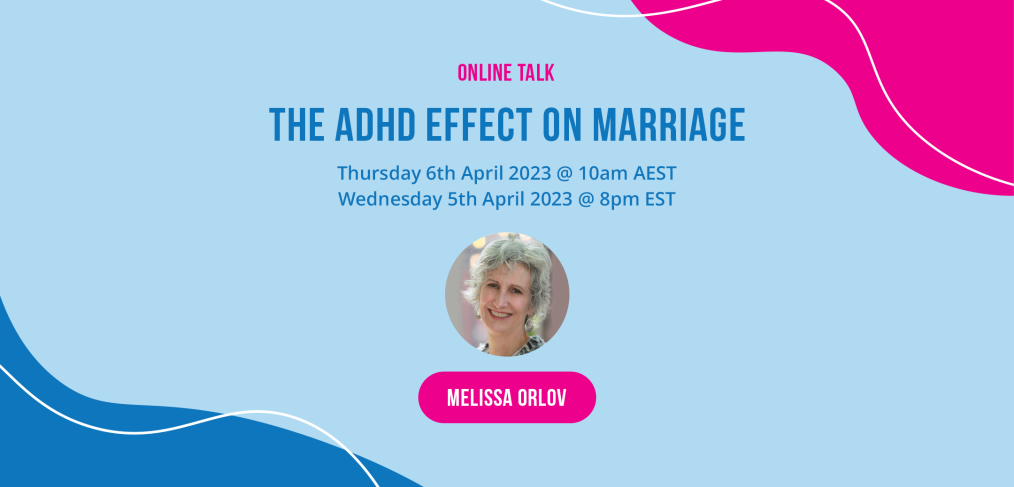 The ADHD Effect on Marriage
Adult ADHD – and partner responses to that ADHD – can have a huge impact on your relationship. In this presentation Melissa Orlov, founder of ADHDmarriage.com, will share why your relationship may feel so difficult, what issues you should pay special attention to, and strategies to help you move to a calmer, happier partnership.
Melissa Orlov is the founder of ADHDmarriage.com and author of two award-winning books on how adult ADHD impacts marriages and relationships.
She is considered one of the foremost authorities on the topic of how ADHD impacts adult relationships. A marriage consultant, Melissa helps ADHD-affected couples from around the world re-balance their relationships and find the love they thought they had lost and learn to thrive through her seminars, consulting and books. She also teaches marriage counselors and other professionals about effective marriage therapy for couples impacted by ADHD.
She has been interviewed by many, including the New York Times, CNN, Today and US News and World Report.
This talk is perfect for couples where either one or both partners have ADHD and are seeking strategies to help move to a calmer, happier partnership.
Professionals attending will receive a Certificate of Attendance to help them keep track of their professional development.
I invite you to join me in delving into this most important topic.
To find out more/book tickets visit the website
Unable to attend and would like to see a recording of this and past talks?
Check out our Patreon membership site:
Join our Newsletter list to receive news of events/meetups/slides:
The talk commences 10am AEST (Sydney time) so if you are not in this time zone please check using this link what time this will be for you.
I look forward to seeing you there – Vivian