Mike Campbell Man Coach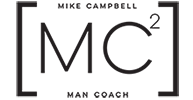 Mike is a men's coach and author, founder of EVERYDAY LEGENDS ACADEMY coaching program for men.
He is the creator of the interview show and events, Beyond The Beers. Mike also supports everyday men from across the globe in building legendary relationships; with themselves, their partners, and their world.
He derives immense purpose in bringing about a new way for men to communicate effectively and confidently navigating their lives.
You'll find Mike's advice to be uncomplicated and immediately actionable. He believes strongly in making things easy to follow and implement and cutting out the confusing noise and misinformation, making Modern Masculinity accessible to everyday men: supporting you in getting your shit as together as it can be.
If you want to learn a bit more about mike and his story, check out this post here.
You can also listen to his podcast here