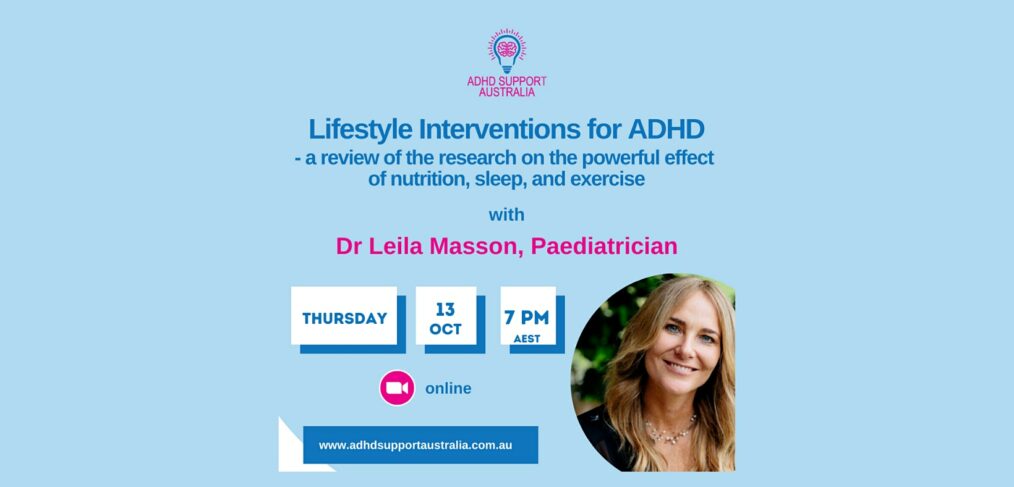 Lifestyle Interventions for ADHD – a review of the research on the powerful effect of nutrition, sleep & exercise with Dr Leila Masson
Lifestyle Interventions for ADHD – a review of the research on the powerful effect of nutrition, sleep and exercise with Dr Leila Masson, Paediatrician
Dr Leila Masson is a consultant paediatrician who specialises in nutritional and environmental medicine for children.
She is the mother of two wonderful, grown-up boys. She had a busy clinic in Auckland, New Zealand, for 14 years before moving to Sydney in 2016. She received her medical doctorate from the Free University of Berlin and did her paediatric specialist training at the University of California in San Francisco. She received her Master in Public Health from Harvard University and her Diploma in Tropical Medicine from the London School of Hygiene and Tropical Medicine.
Dr Masson lectures internationally on the subject of children's nutrition and an integrative medicine approach to paediatric issues, including autism spectrum disorders, ADHD, behaviour issues, allergies, recurrent infections and autoimmune diseases.
She is the author of "Children's Health A-Z", a parent's practical guide to natural and effective therapies for the most common health issues in childhood.
This talk will be highly relevant to adults with ADHD, parents, family members, teachers and other professionals working with children/teens with ADHD or behavioural and other learning difficulties.
Professionals attending will receive a Certificate of Attendance to help them keep track of their professional development.
To find out more/book tickets visit the website
Unable to attend and would like to see a recording of this and past talks?
Check out our Patreon membership site:
Join our Newsletter list to receive news of events/meetups/slides:
The talk commences 7pm AEST (Sydney time) so if you are not in this time zone please check using this link what time this will be for you.
I look forward to seeing you there – Vivian