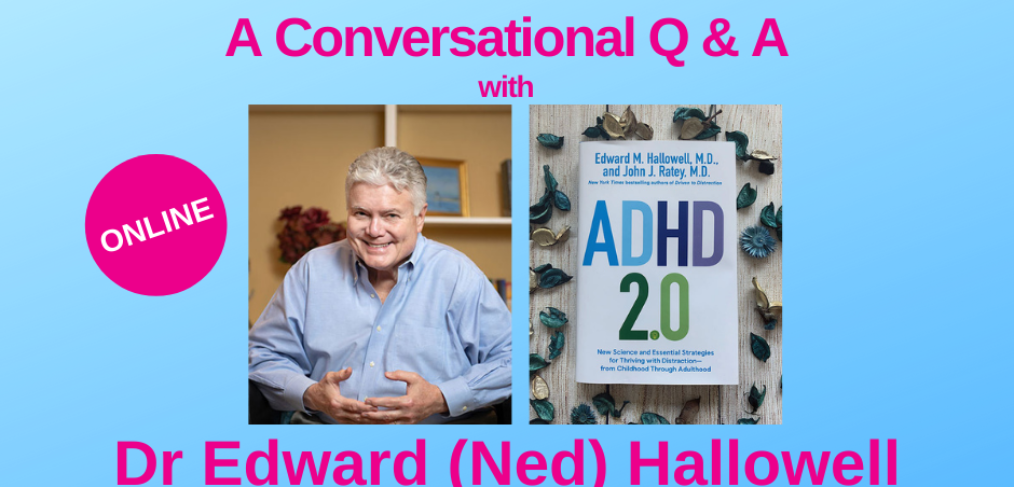 A Conversation with Dr Edward (Ned) Hallowell – ADHD Q & A
A Conversation with Edward (Ned) Hallowell – ADHD Q & A
What if instead of thinking of ADHD as a deficit and a disorder, we saw it for what it really is, a way of being in the world which with the right support can be a wonderful way of being?
Drs Hallowell and Ratey introduced a new term for ADHD in their latest book ADHD 2.0. It's VAST, or Variable Attention Stimulus Trait. The old term with its emphasis on pathology, on a "deficit disorder" is inaccurate and stigmatizing. The new term is far more accurate, allowing for positive attributes, not just negative ones.
Join us in conversation with Dr Hallowell as he answers some ADHD questions and explains the rich and complex world of VAST and how a simple change in framing can set off an entire shift in thinking and treatment.
About Dr Hallowell
Edward (Ned) Hallowell, M.D. is a board-certified child and adult psychiatrist and world authority on ADHD. He is a graduate of Harvard College and Tulane Medical School, and was a Harvard Medical School faculty member for 21 years. He is the Founder of The Hallowell ADHD Centers in Boston MetroWest, New York City, San Francisco, Palo Alto and Seattle.
He has spent the past four decades helping thousands of adults and children live happy and productive lives through his strength-based approach to neurodiversity, and has ADHD and dyslexia himself.
Dr Hallowell is a New York Times bestselling author and has written 20 books on multiple psychological topics. The groundbreaking Distraction series, which began with Driven to Distraction, co-authored with Dr John Ratey in 1994, sparked a revolution in understanding of ADHD.
As the host of the twice-weekly Distraction podcast, Dr. Hallowell explores with guests how to better connect with others and how each of us can implement strategies that can turn modern problems into new-found strengths. He is also a sought-after international speaker and has presented to thousands on topics including the strengths of ADHD, strategies on handling fast-paced life, parenting and a range of other pertinent family and health issues.
Dr Hallowell has been featured on 20/20, 60 Minutes, Oprah, PBS, CNN, The Today Show, Dateline, Good Morning America, The New York Times, USA Today, Newsweek, Time Magazine, the Los Angeles Times, the Boston Globe and many more. He is a regular columnist for ADDitude Magazine.
This talk will be highly relevant to adults with ADHD, parents, family members, teachers and other professionals working with neurodiverse children/young adults.
To find out more/book tickets see link in bio.
www.adhdsupportaustralia.com.au/events
Unable to attend and would like to see a recording of this and past talks?
Check out our Patreon membership site:
www.patreon.com/ADHDSupportAustralia
Join our Newsletter list to receive news of events/meetups:
The talk commences 9.45am AEST (Sydney time) so if you are not in this time zone please check using this link what time this will be for you.
(Dr Hallowell is calling in from Massachusetts, USA where the time will be 7.45pm Wed 8th September if you're in the USA)
https://www.worldtimebuddy.com/
I look forward to seeing you there – Vivian