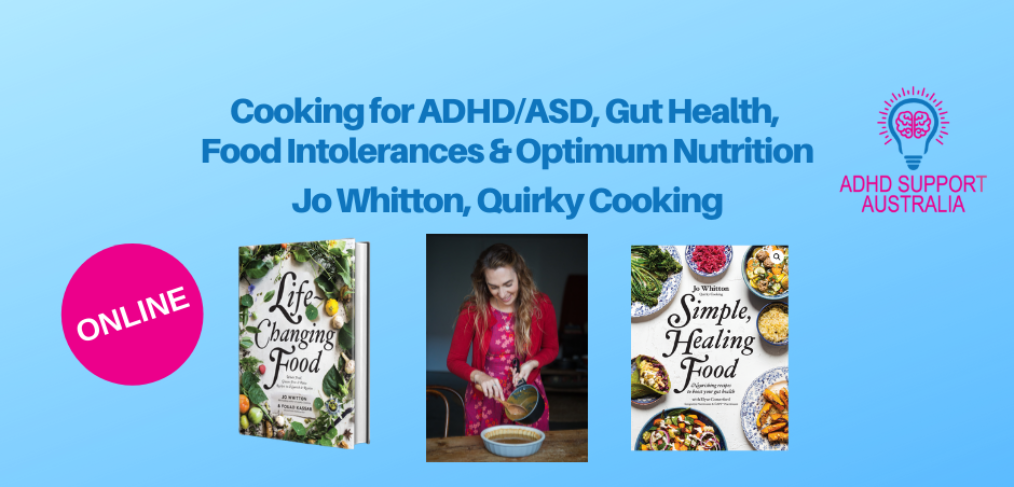 Cooking for ADHD/ASD, Gut Health, Allergies, Food Intolerances & Optimum Nutrition with Jo Whitton of Quirky Cooking
Cooking for ADHD/ASD, Gut Health, Allergies, Food Intolerances & Optimum Nutrition with Jo Whitton of Quirky Cooking
More details to follow.
About Jo Whitton
Jo lives in Far North Queensland, Australia, where she manages her business, Quirky Cooking, and enjoys the country life. Due to food intolerances and health issues in her family (herself and her four children), Jo began researching ways to improve their health through diet from the time her kids were very young.
In 2014 she published her best-selling Quirky Cooking cookbook, and began teaching allergy-friendly cooking seminars. However, about this time her son Isaac was diagnosed with severe OCD and anxiety, and Jo's mission to help her son heal naturally began.
As Jo learnt more about the importance of a healthy gut for reducing inflammation and healing both physical and mental health issues, she began to focus specifically on traditional, healing foods and 'food as medicine', rather than just avoiding allergy-friendly cooking to reduce allergies and reactions. Not only did Isaac's mental health stabilise, but her whole family saw massive improvements in their overall health.
In 2017, Jo published her second best-selling cookbook, 'Life-Changing Food' as a collaboration with Fouad Kassab (food writer and whole food chef). In her third cookbook, 'Simple, Healing Food', Jo takes a deeper dive into gut health and culinary medicine, and shares practical ways to transition to the traditional, healing, whole food diet that helped her and her family so much.
Jo loves helping families reduce the overwhelm caused by chronic health issues, guiding them towards simple diet and lifestyle changes that will heal and nourish, one small step at a time.
This talk will be highly relevant to adults with ADHD, parents & family members as well as health professionals working with children/teens with ADHD/ASD and indeed anyone who has food sensitivities/intolerances/allergies or gut health issues or who loves delicious food!
Professionals attending will receive a Certificate of Attendance to help them keep track of their professional development.
I invite you to join me in talking about this most important topic.
To find out more/book tickets visit the website
Unable to attend and would like to see a recording of this and past talks?
Check out our Patreon membership site:
Join our Newsletter list to receive news of events/meetups/slides:
The talk commences 7pm AEST (Sydney time) so if you are not in this time zone please check using this link what time this will be for you.
I look forward to seeing you there – Vivian