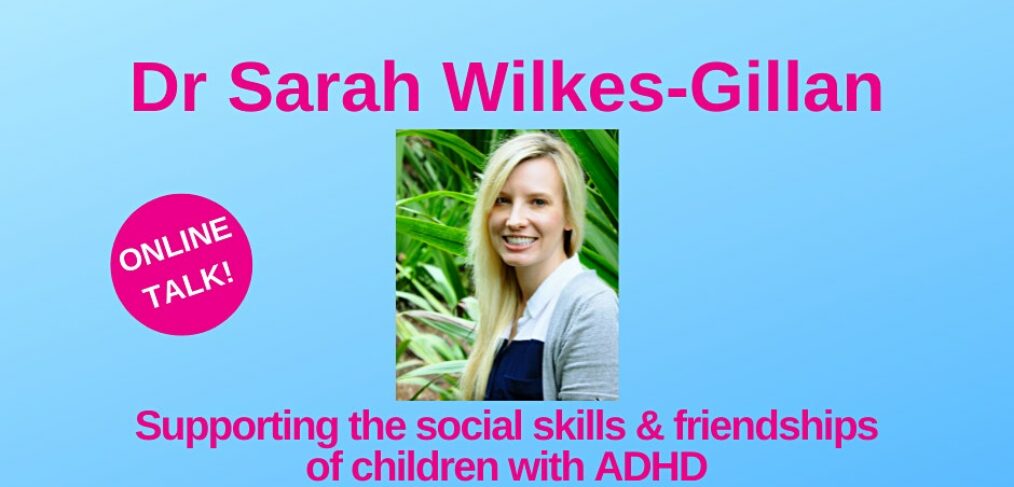 Dr Sarah Wilkes-Gillan – Supporting the Social Skills & Friendships of Children with ADHD
Dr Sarah Wilkes-Gillan PhD; BAppSc(OT)Hons, is an occupational therapist who specialises in helping children with ADHD develop their social, play and friendship skills.
Sarah is passionate about helping children improve these skills, helping them form positive connections with their peers, parents, siblings and teachers and helping them participate in all aspects of their school setting.
Sarah also works at the University of Sydney and has spent over 10 years researching the play and social skills of children with ADHD and how we can support children in developing these important life skills.
This talk will be highly relevant to parents, family members, teachers and other professionals working with children with ADHD and/or social skills challenges.
ADHD Support Australia hosts monthly online expert speakers, online ADHD Parenting courses and online PEERS Social Skills for Teens & Young Adults programs.
Please visit the website for more information on these and other supports.
To find out more/book tickets see link in bio.
www.adhdsupportaustralia.com.au/events
Unable to attend and would like to see a recording of this and past talks?
Check out our Patreon membership site:
www.patreon.com/ADHDSupportAustralia
Join our Newsletter list to receive news of events/meetups:
The talk commences 7pm AEST (Sydney time) so if you are not in this time zone please check using this link what time this will be for you.
https://www.worldtimebuddy.com/
I look forward to seeing you there – Vivian
PS – for teachers in NSW please be advised that NESA have changed their criteria for NESA PD providers and ALL providers who were accredited are now no longer accredited. Therefore, I'm unable to offer teacher PD for this event as I have in the past but it is highly relevant to teachers so please come along and invite your colleagues!