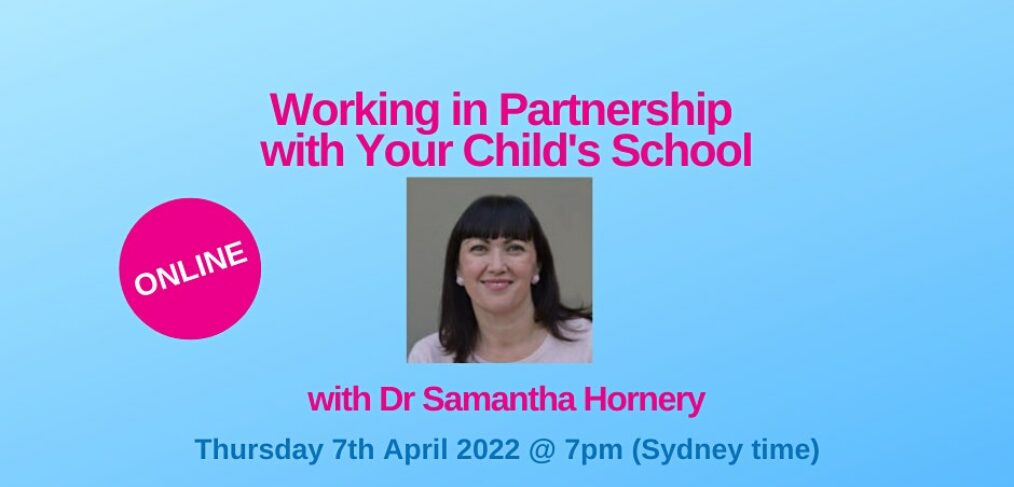 Working in partnership with your child's school with Dr Samantha Hornery
Working in partnership with your child's school with Dr Samantha Hornery
You're in this together!
You and your child's teachers need to be working alongside each other throughout your child's education to ensure your child can enjoy school, participate in school and finish school ready to take on their next adventure.
Many things will change throughout your child's schooling – their teachers at least once a year, their school at least once – but what remains constant is you, their parent and holder of all the knowledge and history of your child's successful experiences in learning.
In this workshop Samantha will provide practical strategies to help parents and schools work together in partnership, to divvy up the support and help each other help the child at the centre of this relationship.
About Dr Samantha Hornery
Dr Samantha Hornery is a primary and special education teacher who has worked in school and community settings teaching, developing and managing educational programs for students with learning difficulties.
She has extensive experience in the development and implementation of professional learning opportunities for teachers and health professionals.
Samantha appeared as an educational advisor in the ABC documentary, Kids on Speed? supporting children with ADHD and their families.
She completed her PhD evaluating Learning Links' Reading for Life Program and won the NSW Institute for Educational Research Outstanding Thesis in 2012.
Samantha is strongly committed to the improving the educational outcomes of children with learning difficulties and ensuring they have every chance of finding success in life.
This talk will be highly relevant to parents, family members, teachers and other professionals working with children/teens with ADHD and other learning difficulties.
Professionals attending will receive a Certificate of Attendance to help them keep track of their professional development.
I invite you to join me in talking about this most important topic.
To find out more/book tickets visit the website
Unable to attend and would like to see a recording of this and past talks?
Check out our Patreon membership site:
Join our Newsletter list to receive news of events/meetups/slides:
The talk commences 7pm AEDT (Sydney time) so if you are not in this time zone please check using this link what time this will be for you.
I look forward to seeing you there – Vivian