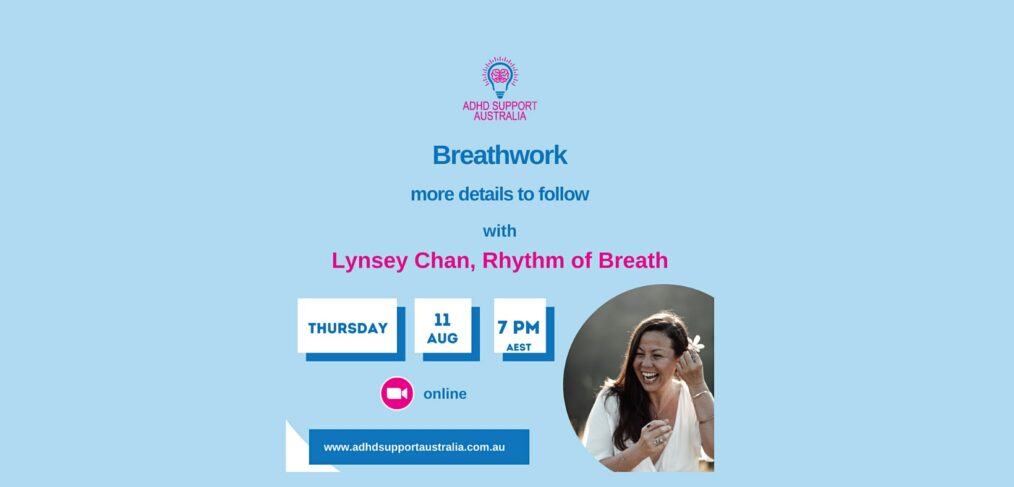 An Introduction to Breathwork with Lynsey Chan, Rhythm of Breath
An Introduction to Breath Work for with Lynsey Chan, Rhythm of Breath
Lynsey Chan is a breath work practitioner and founder of Rhythm of Breath.
Breath work is the conscious control of breathing to influence your physical, mental or spiritual state.
Our breath is one of the only functions of our autonomic nervous system that we can self regulate (meaning we can control it), and it acts as the bridge connecting and controlling all of our autonomic nervous system and regulates all of our bodily functions.  When we learn breath control and change our rhythm of breath, we directly impact our physical, emotional and spiritual body, in just a few breaths.
This talk will be highly relevant to adults with ADHD, parents, family members, teachers and other professionals working with children/teens with ADHD and anyone with anxiety or who wants to experience greater calm in their life.
Professionals attending will receive a Certificate of Attendance to help them keep track of their professional development.
I invite you to join me in talking about this fascinating topic to bring more calm into your life!
To find out more/book tickets visit the website
Unable to attend and would like to see a recording of this and past talks?
Check out our Patreon membership site:
Join our Newsletter list to receive news of events/meetups/slides:
The talk commences 7pm AEST (Sydney time) so if you are not in this time zone please check using this link what time this will be for you.
I look forward to seeing you there – Vivian