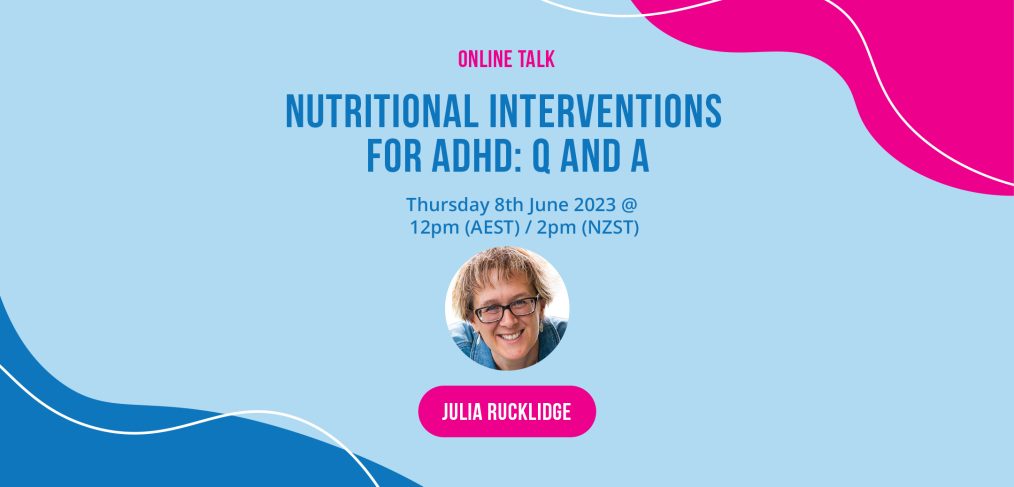 Nutritional interventions for ADHD: Q and A with Julia Rucklidge
Julia will be available to answer any questions on the research linking nutrition to ADHD symptoms. She will discuss the evidence for micronutrient treatment for ADHD including the recent decision by Pharmac in NZ identifying micronutrients as an evidence-based treatment for ADHD.
Julia is a Professor of Clinical Psychology in the School of Psychology, Speech and Hearing at the University of Canterbury and the Director of Te Puna Toiora, the Mental Health and Nutrition Research Lab and co-author of The Better Brain. Originally from Toronto, Canada, she completed her PhD at the University of Calgary in clinical psychology, and in 2000, she immigrated to New Zealand.
She has become well known for her research investigating the interface between nutrition and mental health, having published over 150 empirical papers, frequently featuring in the media on her work and being the recipient of numerous local and international awards, including the Ballin Award from the NZ Psychological Society for significant contributions to the development or enhancement of clinical psychology in Aotearoa New Zealand, being named as a Woman of Influence in New Zealand in 2015, 2018, and 2021, and a Braveheart award for her contribution to making Christchurch a better place to live.
In 2020, she created a free EdX online course for the public on mental health and nutrition. She is also a longstanding member of the Health Practitioners Disciplinary Tribunal (HPDT). Her 2014 TEDx talk has been viewed close to 5 million times.
Julia is passionate about translation of research to practice and making nutritional interventions for the brain mainstream.
Find out more at The Better Brain, the title of her recent book. You can get a copy of The Better Brain at Book Depository.
This talk is for anyone with ADHD, mental health or mood issues who is interested in hearing what the research shows about the use of micronutrients (vitamins & minerals) for alleviating symptoms. This can be in addition to medications or for those looking for an alternative solution whether that be personal choice or because medications are not working for them or are causing negative side-effects. It would also be great information for professionals working with people with ADHD.
Professionals attending will receive a Certificate of Attendance to help them keep track of their professional development.
I invite you to join me in delving into this most important topic.
To find out more/book tickets visit the website
Unable to attend and would like to see a recording of this and past talks?
Check out our Patreon membership site:
Join our Newsletter list to receive news of events/meetups/slides:
The talk commences 12pm AEST (Sydney time) so if you are not in this time zone please check using this link what time this will be for you.
I look forward to seeing you there – Vivian