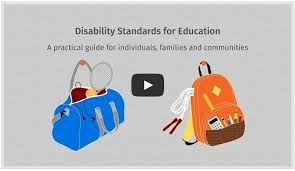 Disability Standards for Education: A Practical Guide for Individuals, Families and Communities This resource aims to increase awareness and understanding of the Disability Standards for Education 2005 among individuals, families and communities throughout Australia. It was developed by the University of Canberra in collaboration with ten funding partners: Australian Capital Territory Government Education and Training Directorate Australian Government Department of Education Catholic Education Commission New South Wales New South Wales Department of Education and Communities Northern Territory Government Department of Education Queensland Department of Education, Training and Employment South Australian Department for Education and Child Development The Department of Education Tasmania The Department of Education Western Australia Victorian Department of Education and Early Childhood Development The above agencies collaborated with the University of Canberra for three years to develop this resource and a suite of online lessons for school staff under the Disability Standards for Education eLearning project. This is a general resource about the rights of students with disability and how schools can work with students and their families to support them. The suite of online lessons for staff of Australian education providers is available at - http://dse.theeducationinstitute.edu.au/.
ADHD Advocacy at School / Australian Capital Territory (ACT)
Family Advocacy Family Advocacy formally known as 'The Institute for Family Advocacy and Leadership Development' is an independent, impartial advocacy organisation that supports families across New South Wales to promote and defend the rights and interests of people with developmental disability. The organisation is managed and staffed by parents and allies of people with disability, who recognise the issues that people with disability and families face and who can assist in strengthening the advocacy and capacity of families. Family Advocacy was founded by families of people with disability, and differ from carer organisations in that our family members are advocating for people with disability to have a good, ordinary life. We do not advocate for parents or siblings themselves, and believe first and foremost in improving the lives of our family members with disability through natural, community supports rather than government funding or services. All of the advocacy work we undertake, including our events, workshops and resources are underpinned by a theory that provides a comprehensive framework for how to help people with disability achieve a good life. The theory is called Social Role Valorisation (SRV) and can be powerful for families to use to improve the life of their family member with disability. We are currently the...