ADHD Online Events
Each month ADHD Support Australia brings you an expert in an ADHD-related field to empower you with the information you need on your ADHD journey.
Since April 2020 our speaker evenings and events have all been online.
Book in below and you'll be sent a link and instructions on how to join the talk via Zoom call.
All online speaker evenings are $15 (+ booking fee + GST), unless otherwise advertised.
If you can't make it to the live event or have only just found us and missed past events you can find recordings on our Patreon members' site.
A recording of the talk will ONLY be available to Patreon members after the live talk.  If you don't think you'll be able to attend the live talk, please join Patreon and watch the recording there.  You can cancel this at any time.

Please scroll down to see all our online offerings including Online Parenting Courses, PEERS Social Skills for Teens & Young Adults and PEERS Dating Skills.

Rethinking Adult ADHD: Lessons from "Procrastivity" and Self-Mistrust
July 26 @ 10:00 am

-

11:30 am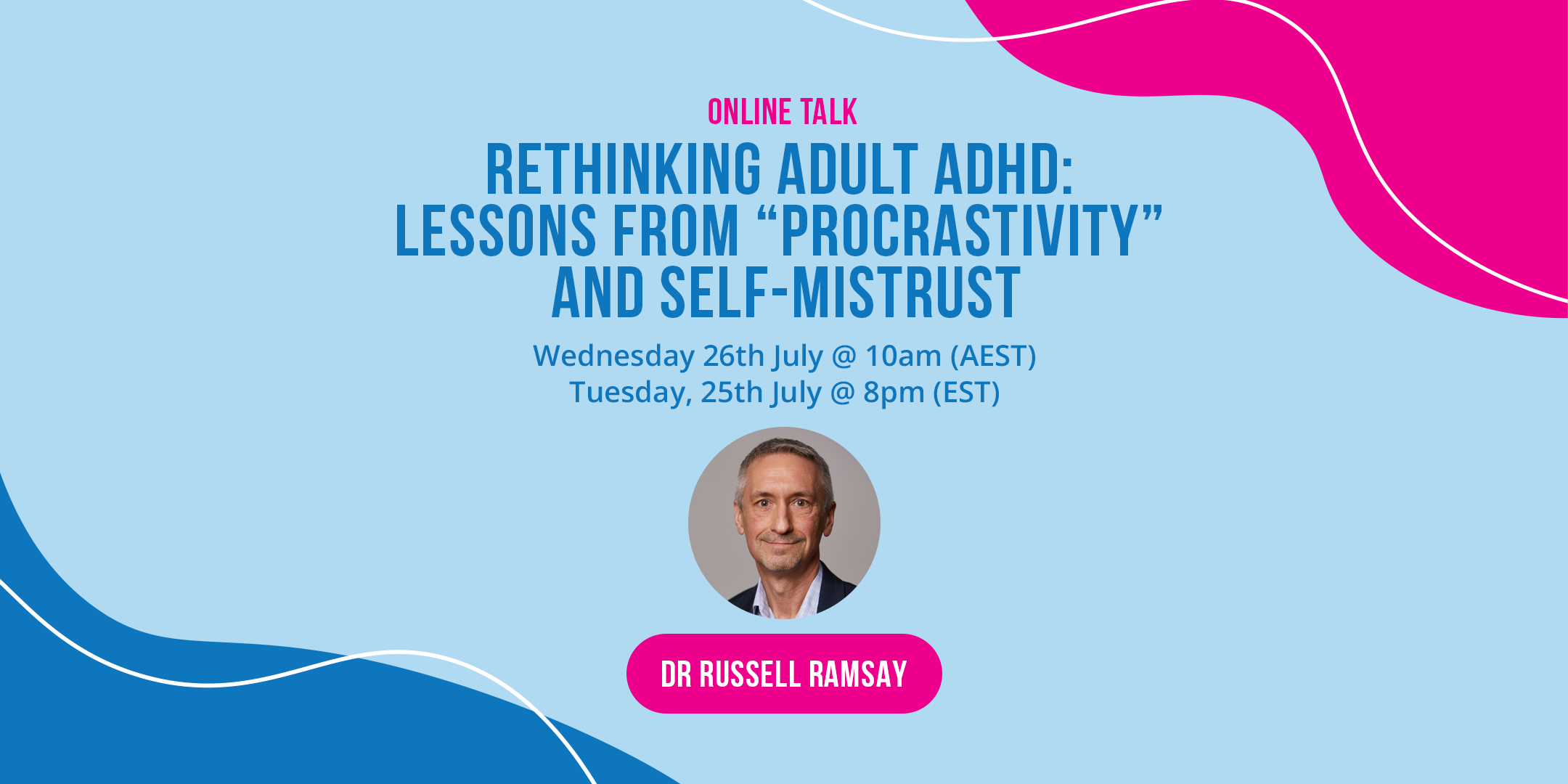 Rethinking Adult ADHD: Lessons from "Procrastivity" and Self-Mistrust with Russell Ramsay
"Procrastivity" is a particular type of procrastination. It involves avoiding a high-priority task by doing something else that is productive, but not as urgent or important, which is ultimately self-defeating. However, "procrastivity" tasks offer clues for reducing procrastination on priority tasks that are particularly useful for adults with ADHD. Similarly, even though no one "thinks" themself into adult ADHD, living with ADHD in adulthood affects thoughts in important ways. Dr. Russell Ramsay will review important lessons learned from "procrastivity" and outline insights about the role of thoughts and beliefs in managing ADHD in adulthood, which are important themes in his most recent book, "Rethinking Adult ADHD: Helping Clients Turn Intentions Into Actions."
About the presenter:
Russell Ramsay, Ph.D., ABPP is co-founder and clinical director of the University of Pennsylvania's Adult ADHD Treatment and Research Program where he is professor of clinical psychology in the department of psychiatry. Dr. Ramsay is widely published and has written five books on the treatment of adult ADHD, most recently Rethinking Adult ADHD (2020, APA). His Adult ADHD Tool Kit has been translated into Spanish, French, and Korean and is a recommended self-help book of the Association for Behavioral and Cognitive Therapies.
Dr. Ramsay is a board-certified in cognitive-behavior therapist. He has presented to audiences around the world and virtually on the assessment and psychosocial treatment of adult ADHD. Dr. Ramsay is an inductee in the CHADD Hall of Fame.
Dr. Ramsay's website – www.cbt4adhd.com
Penn Adult ADHD Program website – https://www.med.upenn.edu/add/adhd.html
Professionals attending will receive a Certificate of Attendance to help them keep track of their professional development.
I invite you to join me in delving into this most important topic.
To find out more/book tickets visit the website
Unable to attend and would like to see a recording of this and past talks?
Check out our Patreon membership site:
Join our Newsletter list to receive news of events/meetups/slides:
The talk commences 10am AEST (Sydney time) so if you are not in this time zone please check using this link what time this will be for you.
I look forward to seeing you there – Vivian