ADHD Online Events
Each month ADHD Support Australia brings you an expert in an ADHD-related field to empower you with the information you need on your ADHD journey.
Since April 2020 our speaker evenings and events have all been online.
Book in below and you'll be sent a link and instructions on how to join the talk via Zoom call.
All online speaker evenings are $15 (+ booking fee + GST), unless otherwise advertised.
If you can't make it to the live event or have only just found us and missed past events you can find recordings on our Patreon members' site.
Please scroll down to see all our online offerings including Online Parenting Courses, PEERS Social Skills for Teens & Young Adults and PEERS Dating Skills.

Rejection Sensitivity Resulting from ADHD with Dr Caroline Stevenson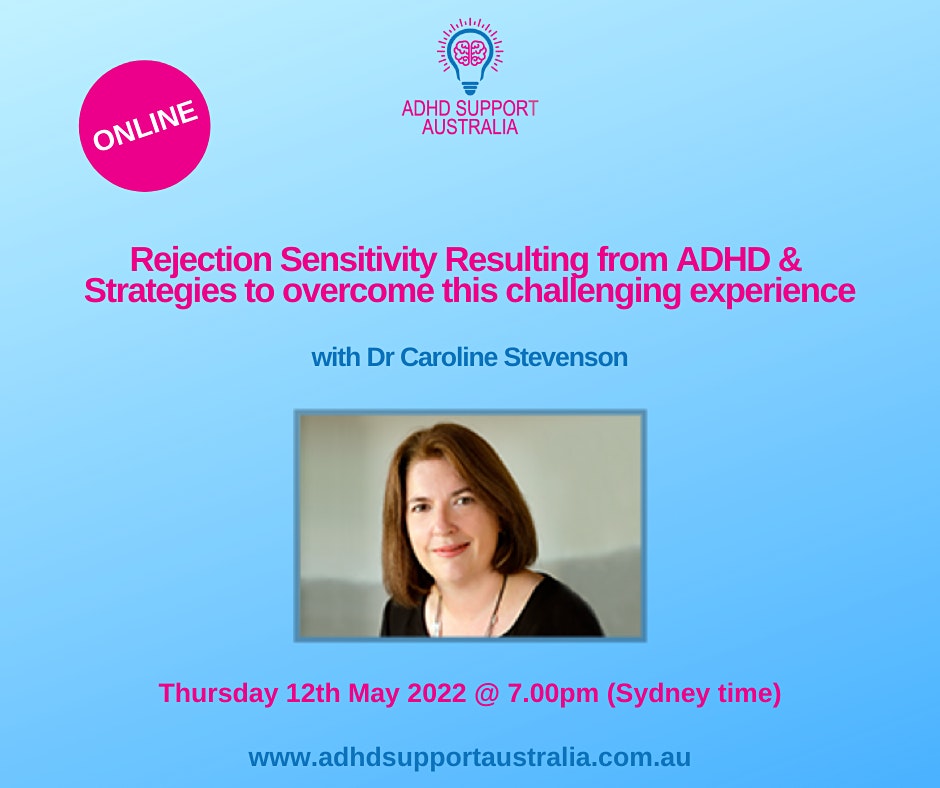 Dr Caroline Stevenson discusses Rejection Sensitivity resulting from ADHD and offers some strategies to overcome this challenging experience
Feeling rejected by friends, family members or romantic partners is a painful experience for any of us but some individuals have a more acute emotional reaction to rejection than others and also have a greater fear of being rejected.
Especially high levels of rejection sensitivity are known as rejection sensitive dysphoria or RSD. People with ADHD often struggle with emotional regulation, and it is thought that, perhaps for this reason, RSD frequently co-occurs with ADHD. For some adults with ADHD their RSD can be severe enough to interfere with their daily life and relationships.
Dr Caroline Stevenson
Dr Caroline Stevenson is a Clinical Psychologist located on the Northern Beaches of Sydney. Caroline studied at the University of Sydney in 1999 with a Masters degree and a PhD in Clinical Psychology. Caroline's PhD focused on making a treatment plan for adult ADHD and by doing this Caroline created the first adult behavioural treatment program.
Caroline continues to grow her knowledge in the area as well as striving to help people with ADHD. Her unrivalled experience in the area gives her the knowledge and experience to give her patients the help they need.
Caroline has written many papers and chapters on the topic of ADHD and her work has been cited in national and international guidelines on the management and assessment of ADHD.
Caroline's array of knowledge in the areas of learning disorders and ADHD make her a great source of support and information.
This talk will be highly relevant to adults with ADHD, young adults, teens, parents, family members, teachers and other professionals working with people with ADHD
To find out more/book tickets please scroll down this page to the grey block.  There's an error I can't figure out at the moment and there's no obvious button for booking so please navigate to where it says 'website' and you see an Eventbrite link.  Click on that link and it will take you to Eventbrite where you'll be able to book your ticket.  Or just click here!
Unable to attend and would like to see a recording of this and past talks? Check out our Patreon membership site
Join our Newsletter list to receive news of events/meetups/slides
The talk commences 7.00pm AEST (Sydney time) so if you are not in this time zone please check using this link what time this will be for you.
I look forward to seeing you there – Vivian