ADHD Online Events
Each month ADHD Support Australia brings you an expert in an ADHD-related field to empower you with the information you need on your ADHD journey.
Since April 2020 our speaker evenings and events have all been online.
Book in below and you'll be sent a link and instructions on how to join the talk via Zoom call.
All online speaker evenings are $15 (+ booking fee + GST), unless otherwise advertised.
If you can't make it to the live event or have only just found us and missed past events you can find recordings on our Patreon members' site.
A recording of the talk will ONLY be available to Patreon members after the live talk.  If you don't think you'll be able to attend the live talk, please join Patreon and watch the recording there.  You can cancel this at any time.

Please scroll down to see all our online offerings including Online Parenting Courses, PEERS Social Skills for Teens & Young Adults and PEERS Dating Skills.

Digital Dilemma – Understanding the Impact of Screen Use
April 27 @ 7:00 pm

-

8:00 pm

Free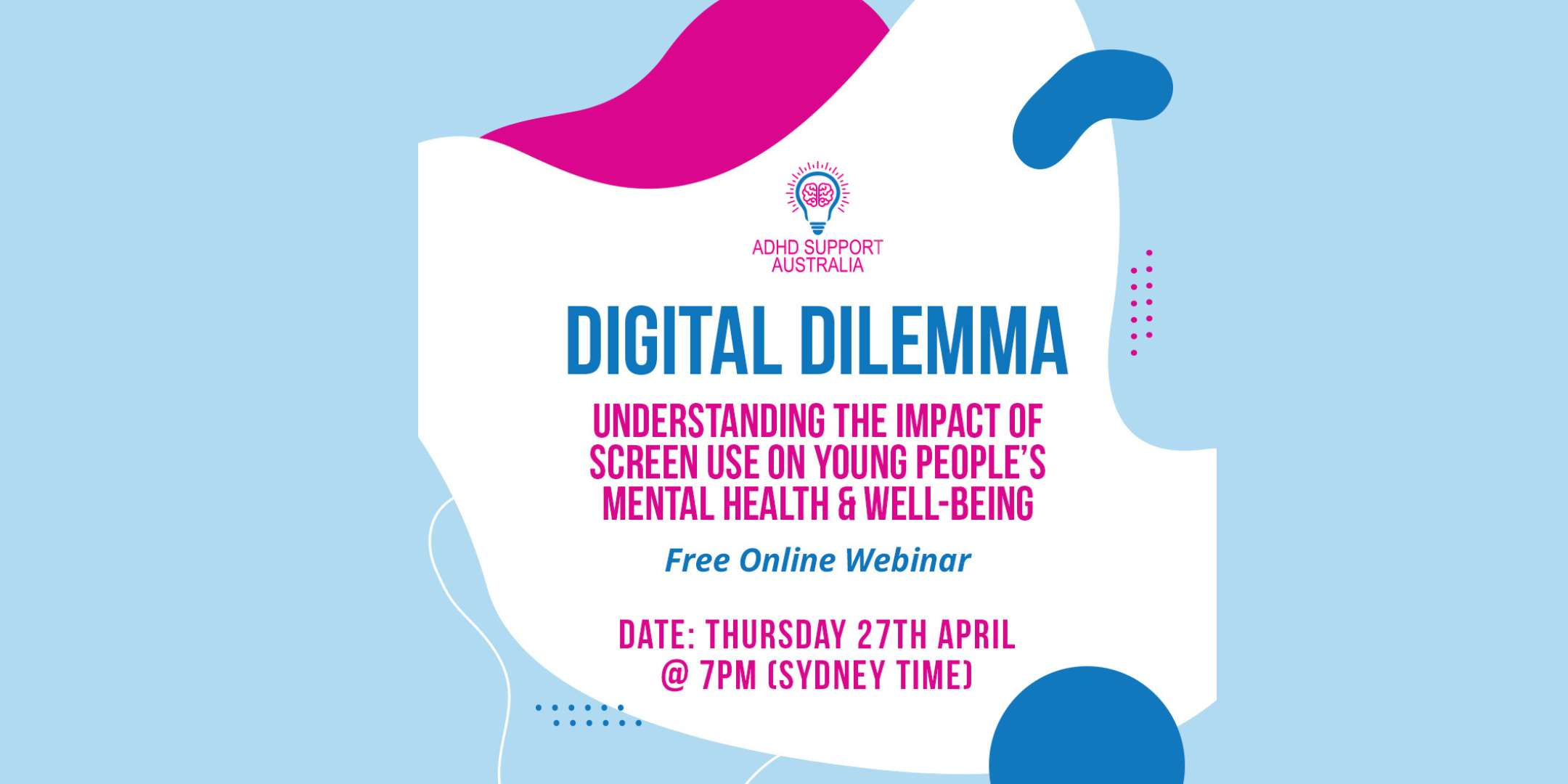 Digital Dilemma – Understanding the Impact of Screen Use on Young People's Mental Health & Well-Being
Do you want to understand why your child finds screens so compelling, what is happening inside their brain and why screens cause so much conflict in your family?
Join me for this webinar to gain valuable insights into the effect of screens on the young brain, the impact of screen use on young people's mental health, their physical well-being, its negative effect on families & relationships and the challenges facing our young people & our families in today's digital age.
In this Online Webinar you'll discover…
1. The effect screens have on your child's brain
Screen time can have a range of negative effects on your child's developing brain. It can impact their cognitive, social-emotional development, ability to concentrate, regulate emotions and form meaningful relationships as well as impact on physical & mental well-being. Screen use is not a neutral activity. Its effects can be damaging!
2. Why screen time is so compelling for your child
Instant gratification, stimulation, bright colours, sounds & interactive features are irresistible to children, whose brains are wired to seek novel experiences & rewards, which screens provide in abundance. Children can lose themselves in the online landscape, where they feel powerful and in control, when the opposite is actually true.
3. The importance of creating healthy digital habits
Excessive screen time can have negative effects on mental health, such as higher risk of depression, anxiety & sleep disturbances. Physical health issues like obesity, poor posture & eye strain can also result. While the impact on social & emotional development can impact the ability to form meaningful relationships & develop empathy.
Speaker: Vivian Dunstan – Founder – ADHD Support Australia* Certified Tech Addiction & Digital Health Educator (NIDHW)* Certified PEERS Teen & Young Adult Social Skills coach* ADDCA trained ADHD Coach* Masters of Teaching (Primary)* Facilitator of Parenting Children with ADHD course* Former RAISE mentor* Hosted 130+ expert ADHD talks* Experienced Mum of ADHD child, teen & young adult* Lived experience with ADHD * Supporting the ADHD community since 2013
Date: Thursday 27th April @ 7pm (Sydney time)
Cost: Free