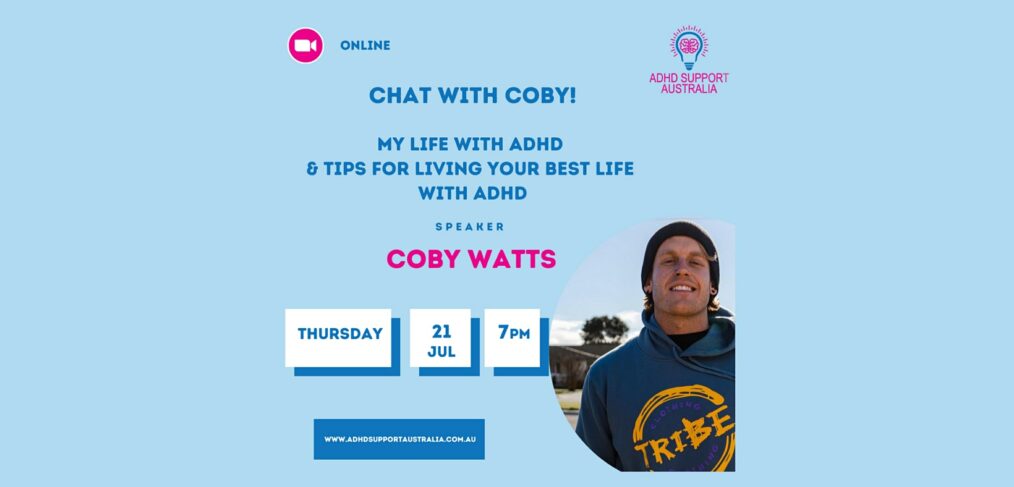 Chat with Coby Watts! My Life with ADHD & Tips for Living Your Best Life with ADHD
with
Coby Watts
Join us for an inspirational conversation with Coby, where you can hear more about his motivational story and his amazing lifestyle makeover.
Hear how he created the mindset that plays a key role in his success in life and tips on how he manages life with ADHD, such as using mini-habits to integrate longer term habits into his life.
A must attend event for anyone with ADHD, particularly young people who are looking for inspiration from someone who's experienced the highs and lows of life with ADHD and who is currently on track to creating and living his best life.
About Coby Watts
Coby Watts is a 26-year-old successful DJ and content creator known for his growing TikTok account with 840k fans and 24.5m likes and his Instagram account with 161k followers where he posts about mental health awareness, ADHD and other issues taken from his daily life.
As a child, Coby struggled at school and felt like he didn't really fit in but when he started working as a DJ at 16, he found his groove and excelled, becoming a huge success in Australia and internationally.
However, despite his success, he still felt there was something not right in his life and soon his DJ party lifestyle spiralled out of control and he found he had landed in a place of addiction.
Realising something had to change, he went cold turkey to try to overcome his addictions. Whilst his willpower was commendable, the physical withdrawal was challenging and his emotional state of mind was concerning and he started to experience panic attacks.
After being misdiagnosed with bi-polar he was eventually correctly diagnosed with ADHD and began treatment and a journey of learning more about the condition.
Having now turned his life around, through a combination of medication and other strategies he is now committed to sharing his story and what he's learned to raise awareness about ADHD, so that others might find their way to living a happier and healthier life with ADHD. His Mindset Tribe on Patreon hosts exclusive content for his members.
Coby has started running again and is currently enjoying training for the Ultra Trail Australia 100km run in May 2022. We'll hear in July how that went for him!
This talk will be highly relevant to young adults with ADHD but also parents, family members, teachers and other professionals working with children/teens with ADHD and other learning difficulties.
Professionals attending will receive a Certificate of Attendance to help them keep track of their professional development.
I invite you to join me in chatting with Coby!
To find out more/book tickets visit the website
Unable to attend and would like to see a recording of this and past talks?
Check out our Patreon membership site:
Join our Newsletter list to receive news of events/meetups/slides:
The talk commences 7pm (Sydney time) so if you are not in this time zone please check using this link what time this will be for you.
I look forward to seeing you there – Vivian