ADHD Events in Sydney
Each month ADHD Support Australia brings you an expert in an ADHD-related field to empower you with the information you need on your ADHD journey.
Due to the current COVID-19 situation, until further notice our speaker evenings and events will now be available online.  Book in below and before the event you'll be sent a link and instructions on how to join.
All speaker evenings at our major sponsor Pittwater RSL are $15 plus booking fee, unless otherwise advertised. 
As of May 2019, ADHD Support Australia are now endorsed to provide NSW Education Standards Authority (NESA) Registered Professional Development for teachers accredited at Proficient Teacher level. 
Attending talks will contribute 1 hour 30 minutes of NSW Education Standards Authority (NESA) Registered Professional Development addressing 6.2.2 from Australian Professional Standards for Teachers towards maintaining Proficient Teacher Accreditation in NSW.
Massive thanks to Pittwater RSL for the complimentary use of their Auditorium which helps keep ticket costs affordable.

Parenting Your ADHD Child – 6-Week Course – CANCELLED Click for details of online course
October 12 @ 10:00 am

-

November 16 @ 12:30 pm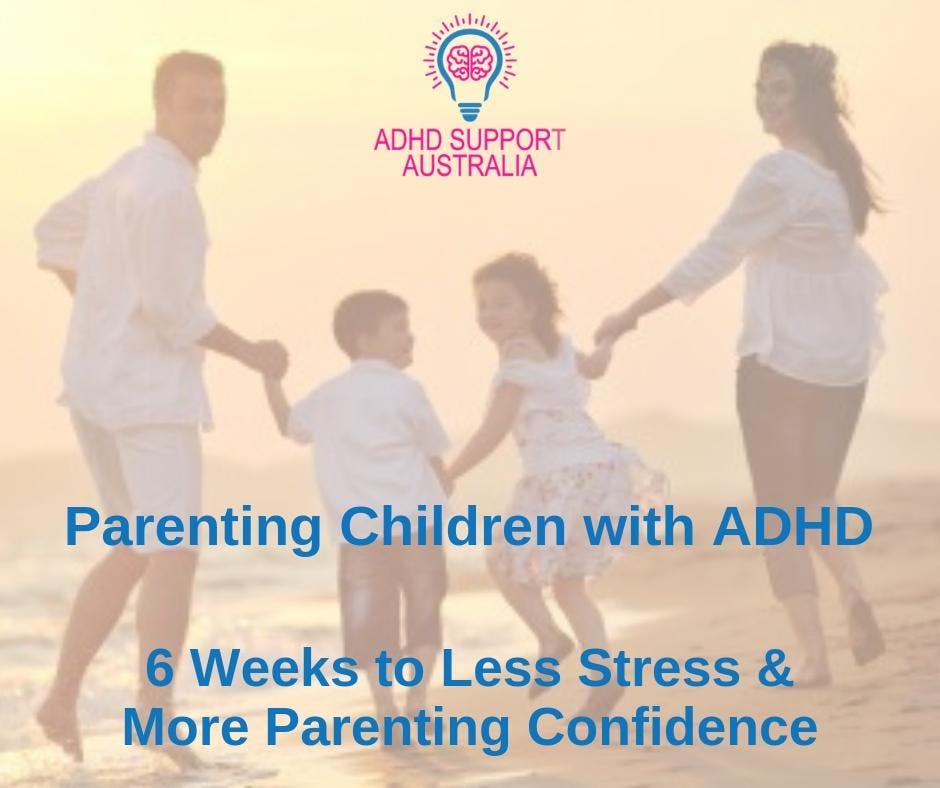 PARENTING CHILDREN WITH ADHD 6-WEEK COURSE – CANCELLED DUE TO COVID-19
If you'd like to take part in an online version of this course please head to:
https://adhd-support-australia.teachable.com
The course is exactly the same content as the in-person course.  You have the option of doing a course that includes a Facebook group and a weekly group online Zoom call for $199 or a course that doesn't have the Facebook and Zoom for $149.
I hope you all understand the necessity to do this due to safety reasons for the foreseeable future.
INVESTMENT: $300 (plus Eventbrite ticketing fee)
6-week course developed specifically for parents/carers managing children with ADHD
Term 4 starts: MONDAY 12th OCTOBER 2020 @ 10am-12.30pm
Most suitable for parents of primary/early high school aged children, but all are welcome.
The goal of this course is to inform and empower parents to work together with their child to cope with the many difficulties of ADHD by passing on practical, workable strategies that will make a difference in the lives of all family members.
An environment conducive to the engagement of parents through non-judgment, empathy and acceptance is a priority.  Plenty of time will be allowed to discuss the home practice exercises to encourage parents to support each other in putting these ideas into practice and celebrate their successes.
Topics in the course include:
 •  What is ADHD?
 •  How does ADHD affect family life?
 •  Creating better routines & relationships
•  Collaborative & Proactive Solutions
 •  Using rewards & consequences
 •  Treatment options
 •  Sleep Strategies
 •  Managing difficult behaviour
 •  Working with schools
 •  Building self-esteem
 •  Family problem-solving
 •  Effective self-care
An important goal of this course is to foster solidarity and support amongst the participants whereby they share and discuss their parenting experiences.  This in turn can lead to lasting friendships, which offer parents the hope of ongoing support on their parenting journey.
A private Facebook forum will be set up specifically for the group to provide further support and advice for the duration of the course to which you will have continued access.
The course is presented by Vivian Dunstan – Founder of the ADHD Support Australia, qualified teacher and course facilitator, mentor and, most importantly, an experienced ADHD parent.
Price includes follow-up support via private Facebook forum specific to the group, weekly handouts, bonus end of course booklet and morning tea.
Parenting Children with ADHD Course is based on a course developed by the Institute of Family Practice but contains so much more from Vivian's own personal experience and research with ADHD.
For more details contact Vivian on vivian@adhdsupportaustralia.com.au
Book your place here and Vivian will contact you to arrange final details such as venue address etc.
An online version of this course is also available at: https://adhd-support-australia.teachable.com/