ADHD Online Events
Each month ADHD Support Australia brings you an expert in an ADHD-related field to empower you with the information you need on your ADHD journey.
Since April 2020 our speaker evenings and events have all been online.
Book in below and you'll be sent a link and instructions on how to join the talk via Zoom call.
All online speaker evenings are $15 (+ booking fee + GST), unless otherwise advertised.
If you can't make it to the live event or have only just found us and missed past events you can find recordings on our Patreon members' site.
A recording of the talk will ONLY be available to Patreon members after the live talk.  If you don't think you'll be able to attend the live talk, please join Patreon and watch the recording there.  You can cancel this at any time.

Please scroll down to see all our online offerings including Online Parenting Courses, PEERS Social Skills for Teens & Young Adults and PEERS Dating Skills.

Paediatric Neuroimmune Conditions (PANS/PANDAS): The Impact on Behaviour, Attention and Focus with Dr Shalika Shetty
December 7 @ 7:00 pm

-

8:30 pm

A$15.00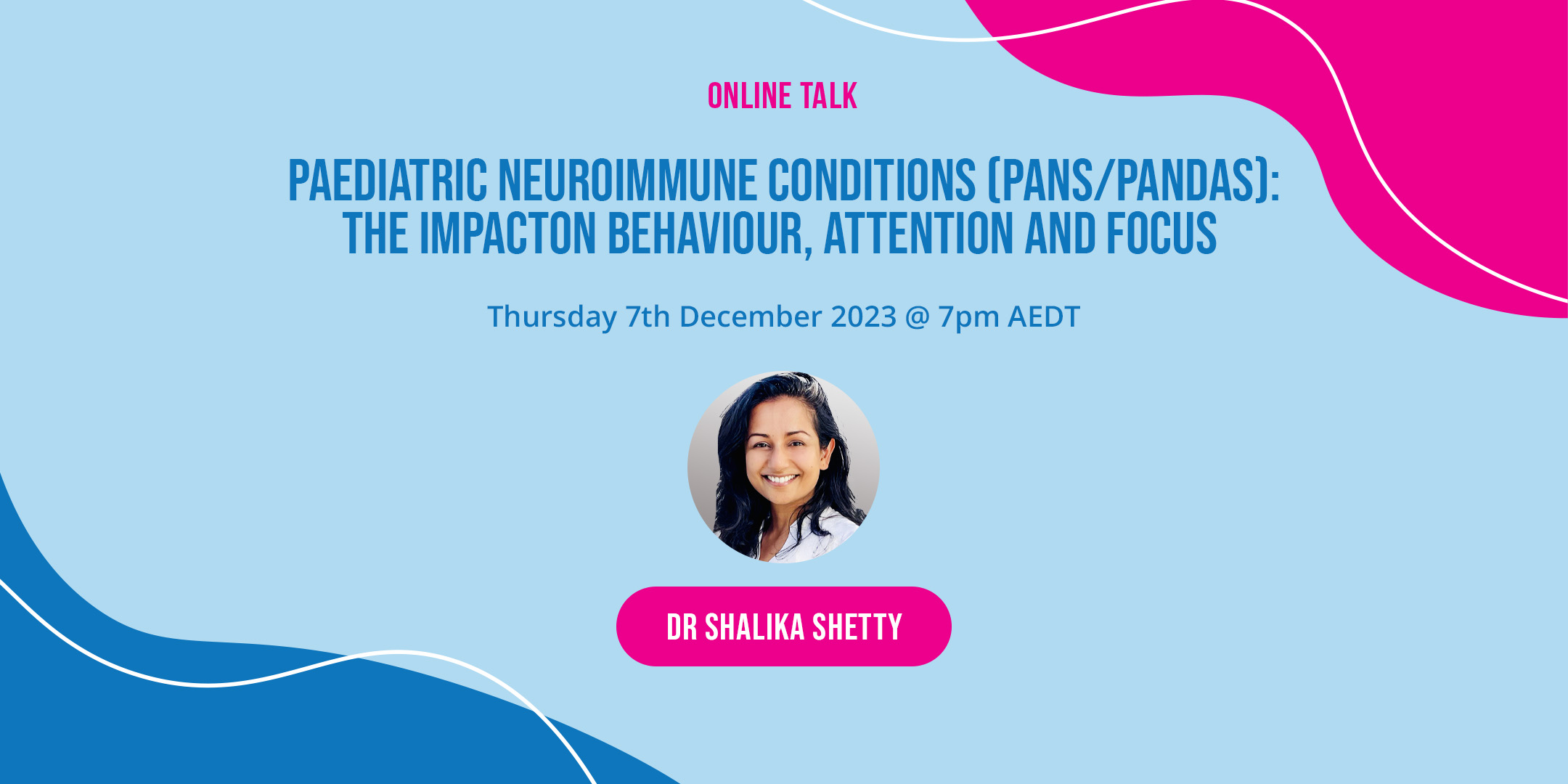 Paediatric Neuroimmune Conditions (PANS/PANDAS): The Impact on Behaviour, Attention and Focus with Dr Shalika Shetty
This talk will include a discussion of neuroimmune conditions, how and why they affect children, and the functional impact they can have from a behavioural and developmental perspective. It will also include an analysis of current therapeutic options.
Dr Shalika Shetty is a holistic paediatrician based at Nextpractice Genbiome. Her interests include general paediatric medical concerns, lifestyle medicine, behavioural and learning issues, neuroimmune conditions, allergy and atopy, gut health, and neonatal concerns including feeding and settling.
Please note there will be NO recording or replay of this event. The talk will only be available live.
Professionals attending will receive a Certificate of Attendance to help them keep track of their professional development.
I invite you to join me in delving into this most important topic.
To find out more/book tickets visit the website
Again, please remember there will be no replay or recording of this event available after it ends. The live discussion and presentation can only be seen in live.
Check out our Patreon membership site to see a recording of past talks.
Join our Newsletter list to receive news of events/meetups/slides:
The talk commences 7pm AEDT (Sydney time) so if you are not in this time zone please check using this link what time this will be for you.
I look forward to seeing you there – Vivian