ADHD Online Events
Each month ADHD Support Australia brings you an expert in an ADHD-related field to empower you with the information you need on your ADHD journey.
Since April 2020 our speaker evenings and events have all been online.
Book in below and you'll be sent a link and instructions on how to join the talk via Zoom call.
All online speaker evenings are $15 (+ booking fee + GST), unless otherwise advertised.
If you can't make it to the live event or have only just found us and missed past events you can find recordings on our Patreon members' site.
Please scroll down to see all our online offerings including Online Parenting Courses, PEERS Social Skills for Teens & Young Adults and PEERS Dating Skills.

Intro to Breathwork – Empowering Your Health & Wellness with Lynsey Chan
August 11 @ 7:00 pm

-

8:30 pm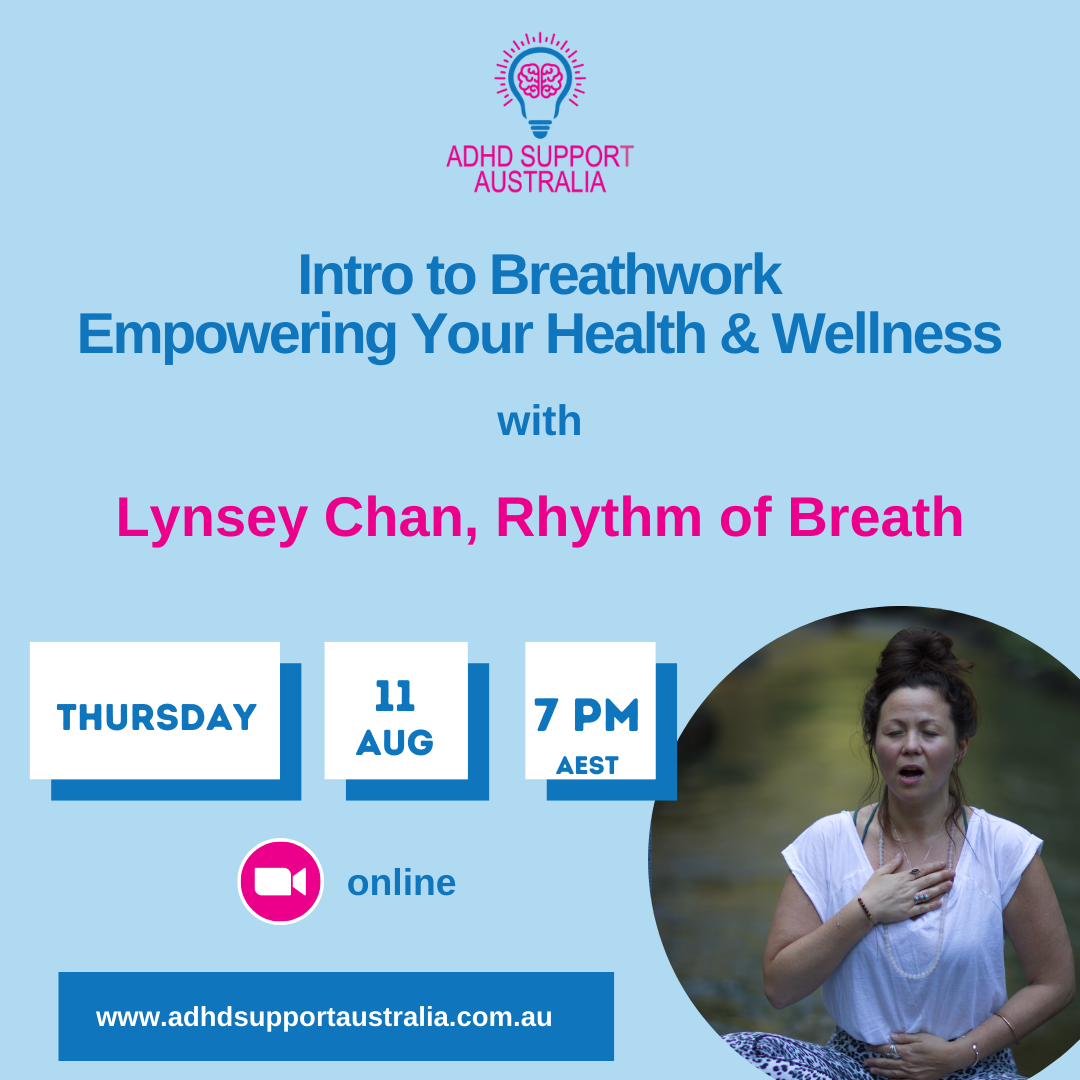 Intro to Breath Work – Empowering Your Health & Wellness with Lynsey Chan, Rhythm of Breath
Breath work is the conscious control of breathing to influence your physical, mental or spiritual state.  Our breath is one of the only functions of our autonomic nervous system that we can self regulate (meaning we can control it), and it acts as the bridge connecting and controlling all of our autonomic nervous system and regulates all of our bodily functions.  When we learn breath control and change our rhythm of breath, we directly impact our physical, emotional and spiritual body, in just a few breaths.
This session will provide a brief overview of one of the fastest trending and impactful tools for health and wellness right now – breathwork.
You will learn about the importance of the nervous system and how you can tap into and control it, using your breath.
You will experience some short, quick and simple techniques to release stress, calm your mind, build resilience and take into your every day, both for you and for your families.
We will offer a short Q&A so that you can have any questions answered by Lynsey.
About Lynsey Chan
Lynsey is the Founder of Rhythm of Breath – Breathwork & Wellbeing. She is an Advanced Trauma Informed Breathwork Facilitator, Therapist & Leadership Coach having led 1000's safely through Breathwork journeys and other transformative healing experiences.
Lynsey works with the breath and body help release trauma imprints, manage stress, calm the nervous system and create lasting change for a better quality of life.
More about Lynsey & Rhythm of Breath – https://rhythmofbreath.com.au
This talk will be highly relevant to adults with ADHD, parents, family members, teachers and other professionals working with children/teens with ADHD and anyone with anxiety or who wants to experience greater calm in their life.
Professionals attending will receive a Certificate of Attendance to help them keep track of their professional development.
I invite you to join me in talking about this fascinating topic to bring more calm into your life!
To find out more/book tickets visit the website
Unable to attend and would like to see a recording of this and past talks?
Check out our Patreon membership site:
Join our Newsletter list to receive news of events/meetups/slides:
The talk commences 7pm AEST (Sydney time) so if you are not in this time zone please check using this link what time this will be for you.
I look forward to seeing you there – Vivian