ADHD Online Events
Each month ADHD Support Australia brings you an expert in an ADHD-related field to empower you with the information you need on your ADHD journey.
Since April 2020 our speaker evenings and events have all been online.
Book in below and you'll be sent a link and instructions on how to join the talk via Zoom call.
All online speaker evenings are $15 (+ booking fee + GST), unless otherwise advertised.
If you can't make it to the live event or have only just found us and missed past events you can find recordings on our Patreon members' site.
Please scroll down to see all our online offerings including Online Parenting Courses, PEERS Social Skills for Teens & Young Adults and PEERS Dating Skills.

Food Sensitivities, Intolerances & ADHD with Sue Dengate from Fedup.com
September 8 @ 7:00 pm

-

8:30 pm

A$15.00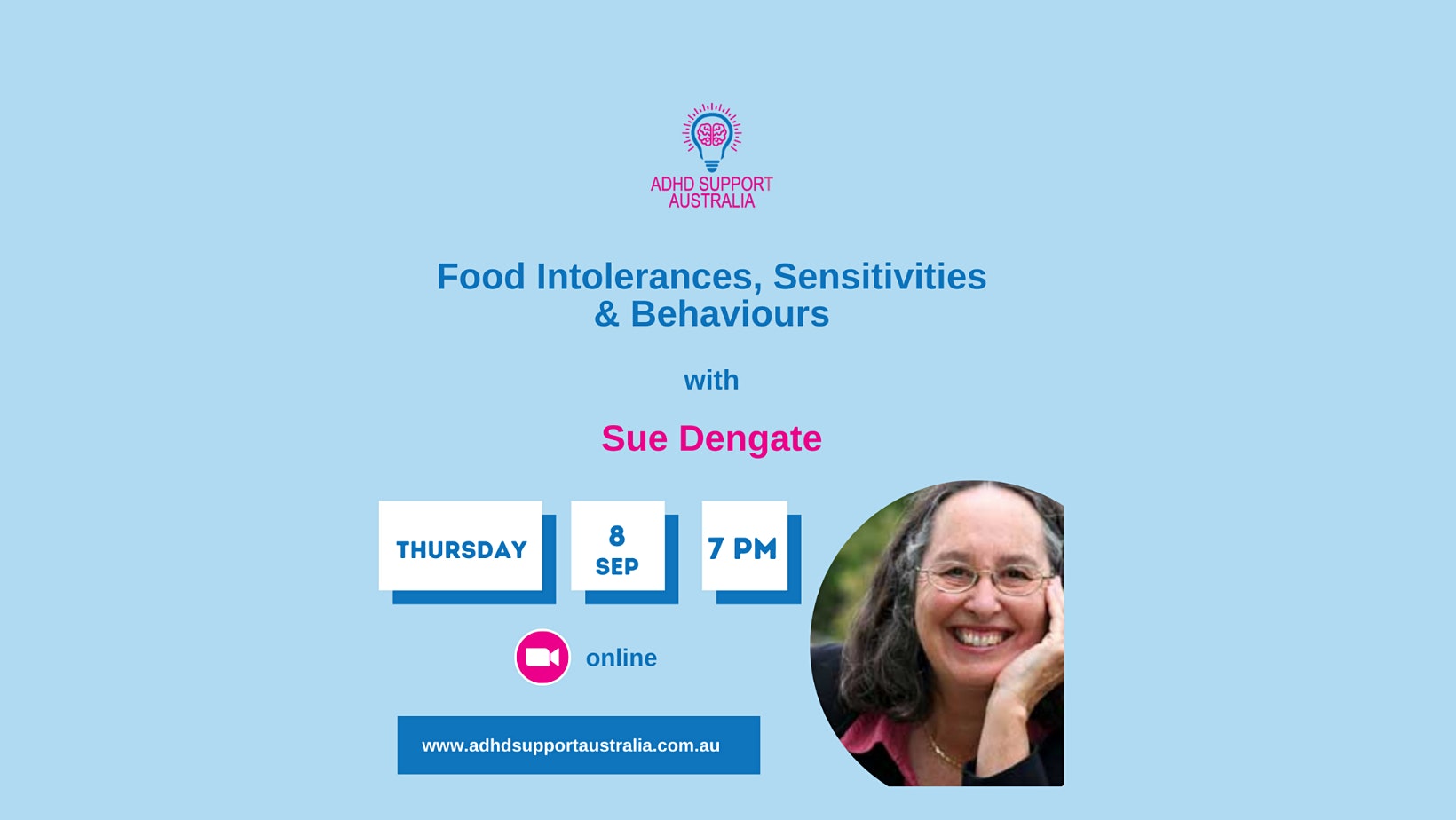 Food Sensitivities, Intolerances & Behaviour with Sue Dengate from Fedup.com
Food Sensitivities, Intolerances & Behaviour with Sue Dengate
Talk details to follow shortly
About Sue Dengate BA (Psych UNSW) DipEd (UNSW) – Author & food intolerance expert
Sue Dengate is a psychology graduate and former high school teacher who became interested in the effects of food additives after the birth of her first child 20 years ago. Since then, Sue has focused on the effects of food chemicals on children's behaviour, health and learning ability. She is author of the bestselling Fed Up series, published by Random House Australia. In 2001, Sue completed a round the world 'supermarket tour' to compare the use of food additives in 15 countries.
Her groundbreaking study about the behavioural effects of a common bread preservative was published in a medical journal in 2002.
Sue, helped by her husband Dr Howard Dengate, a food scientist, runs the Food Intolerance Network through the website www.fedup.com.au. Sue was an Australian of the Year finalist in 2009.
This talk will be highly relevant to adults with ADHD, parents, family members, teachers and other professionals working with children/teens with ADHD and other learning difficulties, health issues or behavioural issues.
Professionals attending will receive a Certificate of Attendance to help them keep track of their professional development.
I invite you to join me in talking about this most important topic.
To find out more/book tickets visit the website
Unable to attend and would like to see a recording of this and past talks?
Check out our Patreon membership site:
Join our Newsletter list to receive news of events/meetups/slides:
The talk commences 7pm AEST (Sydney time) so if you are not in this time zone please check using this link what time this will be for you.
I look forward to seeing you there – Vivian