ADHD Online Events
Each month ADHD Support Australia brings you an expert in an ADHD-related field to empower you with the information you need on your ADHD journey.
Since COVID-19 restrictions came into force in April 2020 our speaker evenings and events have been available online.
Book in below and you'll be sent a link and instructions on how to join the talk via Zoom call.
All online speaker evenings are $15 plus booking fee, unless otherwise advertised. 
In 2019 ADHD Support Australia were endorsed to provide NSW Education Standards Authority (NESA) Registered Professional Development for teachers accredited at Proficient Teacher level.
However, from 1 Jan 2021 NESA have withdrawn accreditation from ALL providers of NESA PD so unfortunately at present we no longer offer this, but I will keep you informed of future developments.

Dr Sharon Saline – Motivating Neurodiverse Learners
June 17 @ 10:00 am

-

11:30 am

A$15.00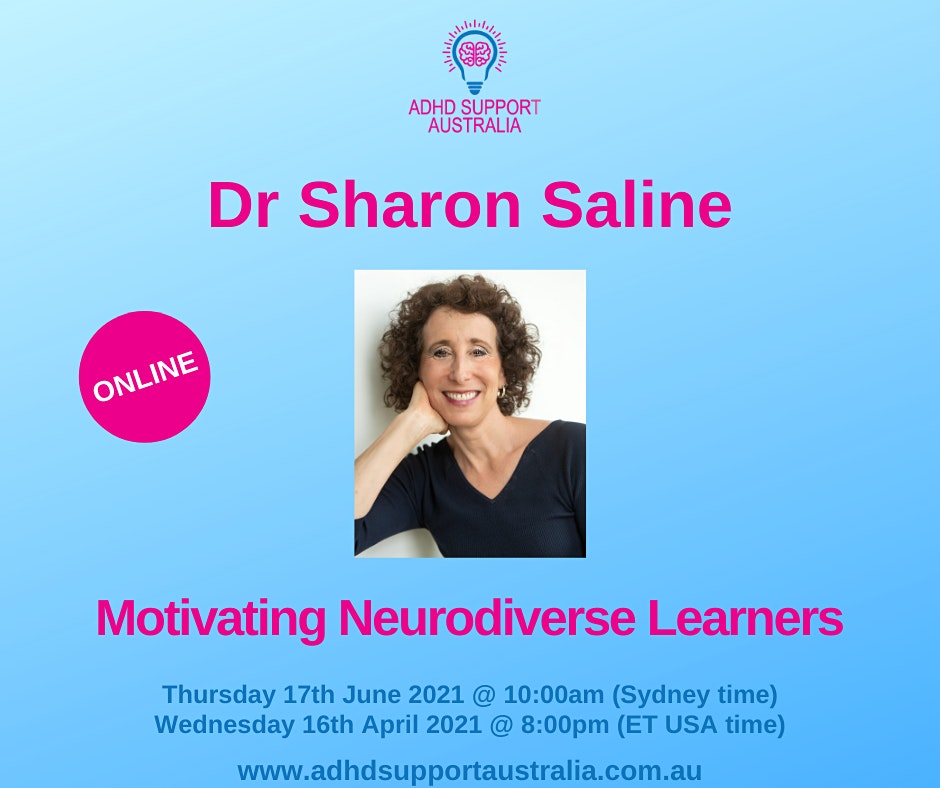 Dr Sharon Saline – Motivating neurodiverse learners during hybrid learning: How to help kids do the no-fun, boring and tough stuff
Dr Sharon Saline
Motivating neurodiverse learners during hybrid learning: How to help kids do the no-fun, boring and tough stuff
We have another very special guest speaker joining us in June – Dr Sharon Saline!
Does your child or teen with ADHD, high functioning autism, learning differences or anxiety have a tough time starting and completing things? Learn how to successfully motivate them using Dr. Saline's evidence-based, collaborative approach. Instead of arguments and frustration, learn to increase buy-in, motivation and accountability by applying the research-based, effective strategies that have helped hundreds of families overcome procrastination and get stuff done!
Sharon Saline, Psy.D., clinical psychologist and author of the award-winning book, 'What Your ADHD Child Wishes You Knew: Working Together to Empower Kids for Success in School and Life 'and 'The ADHD Solution Card Deck' specializes in working with kids, young adults and families living with ADHD, learning disabilities and mental health issues.
Her unique perspective – as a sibling in an ADHD home, combined with decades of experience as a clinical psychologist and educator/clinician consultant – assists her in guiding families and adults towards effective communication and closer connections.
She lectures and facilitates workshops internationally on topics such as understanding ADHD, executive functioning, anxiety, different kinds of learners and the teen brain. Dr. Saline is a regular contributor to ADDitudemag.com and PsychologyToday.com, a featured expert on MASS Appeal on WWLP-TV and a part-time lecturer at the Smith School for Social Work.
This talk will be highly relevant to parents, family members, teachers and other professionals working with neurodiverse children/young adults.
I invite you to join me in speaking with Dr Saline.
To find out more/book tickets see link in bio.
www.adhdsupportaustralia.com.au/events
Unable to attend and would like to see a recording of this and past talks?
Check out our Patreon membership site:
www.patreon.com/ADHDSupportAustralia
Join our Newsletter list to receive news of events/meetups:
The talk commences 10am AEST (Sydney time) so if you are not in this time zone please check using this link what time this will be for you.
(Dr Saline is calling in from Massachusetts, USA where the time will be 8pm Wed 16th June if you're in the USA)
https://www.worldtimebuddy.com/
I look forward to seeing you there – Vivian
PS – for teachers in NSW please be advised that NESA have changed their criteria for NESA PD providers and ALL providers who were accredited are now no longer accredited. ThereforeI'm unable to offer teacher PD for this event as I have in the past but it is highly relevant to teachers so please come along and invite your colleagues!