ADHD Online Events
Each month ADHD Support Australia brings you an expert in an ADHD-related field to empower you with the information you need on your ADHD journey.
Since COVID-19 restrictions came into force in April 2020 our speaker evenings and events have been available online.
Book in below and you'll be sent a link and instructions on how to join the talk via Zoom call.
All online speaker evenings are $15 plus booking fee, unless otherwise advertised. 
In 2019 ADHD Support Australia were endorsed to provide NSW Education Standards Authority (NESA) Registered Professional Development for teachers accredited at Proficient Teacher level.
However, from 1 Jan 2021 NESA have withdrawn accreditation from ALL providers of NESA PD so unfortunately at present we no longer offer this, but I will keep you informed of future developments.

Anna Dedousis-Wallace – Using the CPS Model for Challenging Behaviour
October 14 @ 7:00 pm

-

9:00 pm

A$15.00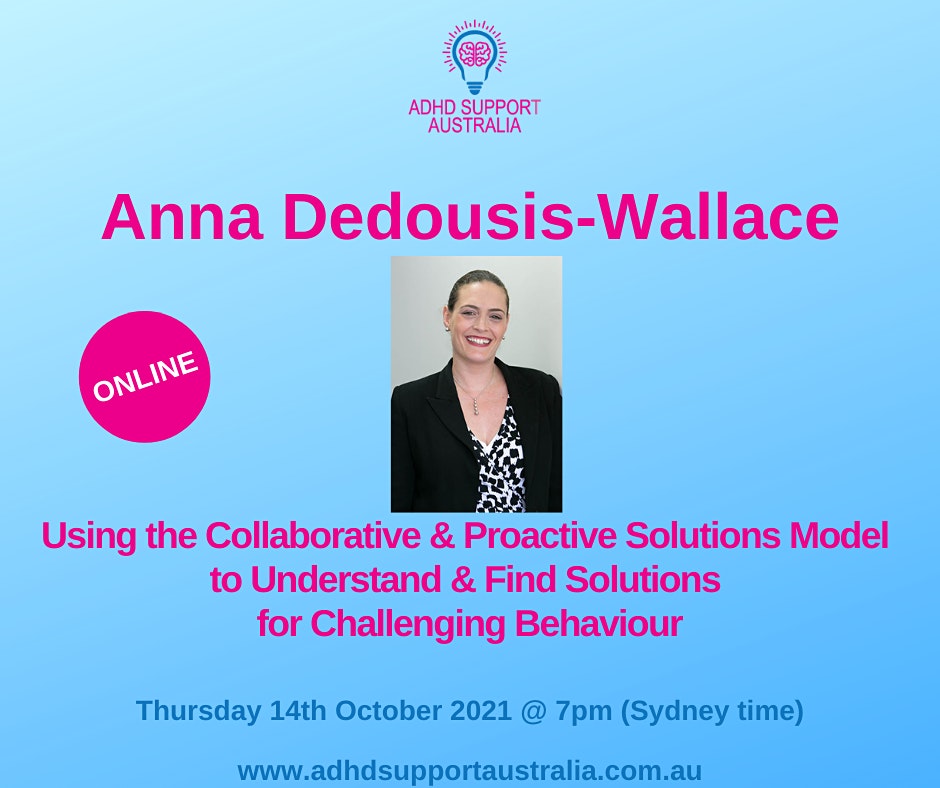 Using the Collaborative & Proactive Solutions Model to Understand & Find Solutions for Challenging Behaviour with Anna Dedousis-Wallace
Using the Collaborative & Proactive Solutions Model to Understand & Find Solutions for Challenging Behaviour with Anna Dedousis-Wallace
The Collaborative & Proactive Solutions Model (CPS) is an innovative, empirically-supported, evidence-based treatment developed by Dr Ross Greene from Harvard Medical School.
It is a non-punitive, non-adversarial, trauma-responsive model of care designed for families of behaviourally challenging children and teens. In this model parent and child work together to identify situations where something is getting in the way of the child doing well, and then collaborate on how to overcome them and find durable solutions.
The CPS model is based on the premise that concerning behaviour occurs when the expectations being placed on a child exceed the child's capacity to respond adaptively.
So the emphasis of the model isn't on children's concerning behaviour – just the manner in which they are expressing the fact there are expectations they're having difficulty meeting. The model focuses on identifying the skills the child is lacking and the expectations they are having difficulty meeting. Then the goal is to help children and caregivers solve those problems, rather than trying to modify children's behaviour through application of rewards and punishments.
The goal is to foster a collaborative partnership between adults and children and to engage children in solving the problems that affect their lives. Being a non-punitive and non-adversarial model, the likelihood of conflict is decreased, relationships enhanced and communication improved.
Dr Greene's approach is described in his various books, including The Explosive Child, Lost at School, Lost & Found & Raising Human Beings.
Anna Dedousis-Wallace
Anna is a senior clinical psychologist and researcher at The Kidman Centre, University of Technology Sydney. Anna's has had varied clinical experience over the years treating a range of disorders for children and adults. Her most recent research and clinical experience has focused on children with disruptive behaviour disorders, with the majority of these children also presenting with co-morbid ADHD. Anna is one of two certified trainers of CPS in Australia. She has used CPS to treat children with Oppositional Defiant Disorder, within a large randomised controlled trial. Anna's clinical and research interests are in the areas of disruptive behaviour disorders and ADHD. She has more recently enjoyed training school staff in the CPS model across rural and regional NSW.
The Kidman Centre at UTS is a mental health treatment and research unit specialising in evidence-based treatments for children, teenagers, young adults and their families and is Australia's first accredited Collaborative & Proactive Solutions (CPS) clinic.
This talk will be highly relevant to parents, family members, teachers and other professionals working with children/young adults with challenging behaviours.
I invite you to join me in speaking with Anna to find out more about how this model can really help find solutions for the most challenging behaviours.To find out more/book tickets see link in bio.
www.adhdsupportaustralia.com.au/events
Unable to attend and would like to see a recording of this and past talks?
Check out our Patreon membership site:
www.patreon.com/ADHDSupportAustralia
Join our Newsletter list to receive news of events/meetups:
The talk commences 7pm AEST (Sydney time) so if you are not in this time zone please check using this link what time this will be for you.
https://www.worldtimebuddy.com/
I look forward to seeing you there – Vivian
PS – for teachers in NSW please be advised that NESA have changed their criteria for NESA PD providers and ALL providers who were accredited are now no longer accredited. Therefore, I'm unable to offer teacher PD for this event as I have in the past but it is highly relevant to teachers so please come along and invite your colleagues!